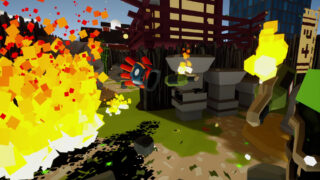 First-person spider-hunter Kill It With Fire VR for PlayStation VR2, PlayStation VR, Quest 2, and SteamVR on April 13, publisher tinyBuild and developer Casey Donnellan Games announced.
"With the immersive power of VR, fans can finally experience the thrill of hunting down pesky spiders in a way that feels almost lifelike," said Kill It With Fire VR solo developer Casey Donnellan in a press release. "Get ready to feel the rush of adrenaline as you blast your way through levels, taking down every eight-legged foe in your path."
Here is an overview of the game, via tinyBuild:
Droves of eight-legged freaks have taken over the neighborhood. The only way to get rid of them? Burn it all down. Embark on an exciting mission offering a mix of action, humor, and destruction as exterminators rid homes of fright-inducing spiders.

Equip an arsenal with everything from flamethrowers to shurikens, then lay waste to these creepy crawlies. Start the hunt by using the trusty spider tracker to locate eight different species of the not-so-tiny monsters and put them to rest. Scan environments for clues, complete challenges, and collect upgrades. Combining action and puzzles with a procedurally generated environment will make each playthrough a new adventure.

Journey through a visually stunning and whimsical world infested with the arachnid demons. A bright and colorful palette helps balance out the eerie aura of the sinister little pests roaming the grounds. The mellow and somber music combined with distressing sound effects are tailored to overall tone, providing an immersive experience that is both thrilling and entertaining.
Watch a new trailer below.
Release Date Trailer