Ghostwire: Tokyo coming to Xbox Series on April 12 alongside 'Spider's Thread' update
Also available via Xbox Game Pass.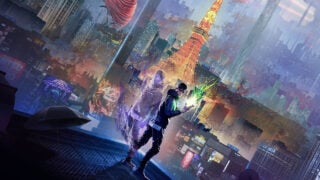 Publisher Bethesda Softworks and developer Tango Gameworks will release Ghostwire: Tokyo for Xbox Series on April 12 alongside the "Spider's Thread" update for the existing PlayStation 5 and PC versions, the companies announced. It will also be available via Xbox Game Pass.
Here is an overview of the update, via Bethesda Softworks:
Whether you're a returning ghost hunter raring for more content or a newcomer first stepping into a modern-day Tokyo besieged by paranormal events, we can't wait to bring players this massive free update to Tango Gameworks' supernatural open world action–adventure.

On top of a new game mode, the "Spider's Thread" update includes many additions to the main story campaign for Ghostwire: Tokyo. Here are a few of the exciting inclusions you can expect in this free update:

Test Your Skill in an All-New Game Mode

Take on a whole new kind of challenge in "The Spider's Thread," a new mode separate from the main game and selectable from the main menu. Players must navigate a 30-stage gauntlet assembled from over 130 handcrafted levels with one simple goal: get to the end. It won't be easy, but making your way through levels and clearing challenges will help you earn crucial upgrades to become stronger.

But beware: if you're defeated during a run, you'll have to start back from the beginning. However, this time you'll have a portion of your upgrades retained. Descend the Spider's Thread, unlock more skills, level up and conquer this game mode for skilled Ghostwire fans!

Uncover More in the Main Story

The Ghostwire: Tokyo "Spider's Thread" update adds new locations to visit in the ghost-riddled streets of supernatural Tokyo, including the eerie Middle School area. There's something ominous in session inside those classrooms, but for those who really don't like spooky games, the new "Reduced Horror Effects" setting will replace certain psychic effects with adorable SHIIBUYA HACHI stickers!

In addition to new missions, the update features extended story cutscenes, granting players more character interaction and insight into the plot as they play through Akito and KK's journey to stop the menacing Hannya.

Boost Your Skills to Battle New Foes

To stop the worlds of the living and the supernatural from colliding, players will need to face the malevolent, otherworldly Visitors seeping into Tokyo's streets. With the Ghostwire: Tokyo "Spider's Thread" update, Akito's arsenal of skills is bolstered with new combat skills like the Counter-Attack to follow up a successful block, Quick Dodging to evade enemy attacks and the Charge Rush, an evolution of your Ethereal Weaving technique that allows you to augment your Palm Strike into an elementally charged melee strike! Players can also make use of new Tengu Wind and Spiritual Fountain talismans, allowing them to drop a whirlwind to reach new heights or a spring to replenish their Ether reserves when munitions run low.

All these new tools in your toolbox will come in handy, as new threats have also emerged in Tokyo. Stay alert for malicious new Visitors prowling the alleys such as the fast-moving Retribution, invisible Silent Gaze or the high-flying Sanguine Dancer. With Akito's new skills and KK at your side, however, there's no challenge you won't overcome to save Akito's family and all of Tokyo!

Expanded Photo Mode and More

That's not all the exciting content to unravel in the Ghostwire: Tokyo "Spider's Thread" update! Capture a souvenir pic with an expanded Photo Mode feature, including stamps to overlay on your images. Use in-game Meika to unlock figures at capsule machines scattered throughout Tokyo to unlock game models that you can even use in Photo Mode for supernatural selfies.

We could keep going about the additions coming to Ghostwire: Tokyo this April with the "Spider's Thread" update, but a few features are worth keeping secret—at least for now. After all, what's a good ghost story without a little mystery?
Ghostwire: Tokyo first launched for PlayStation 5 and PC via Steam and Epic Games Store on March 25, 2022. It will also be available as part of the PlayStation Plus Game Catalog for Extra and Premium subscribers beginning this month.
Watch a new trailer below.
"Spider's Thread" Update Teaser Trailer
English
Japanese