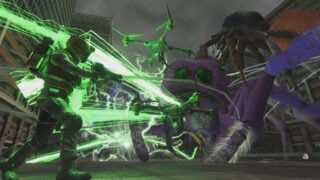 D3 Publisher has announced Earth Defense Force 6's first downloadable content mission pack "Lost Days." It will launch on March 23 in Japan for 1,650 yen.
"Lost Days" is a prequel story connected to the events of Earth Defense Force 5, featuring a dreadful scenario and enemies (Invasive Alien Species Primal Alpha, Invasive Alien Species Primal Beta, Invasive Wild Species, Primal Mother Monster, Invasive Alien Species Large Type, Cocoon, etc.), a total of 15 missions, and over 70 new weapons (some new, and some from Earth Defense Force 5's additional mission packs).
In related news, D3 Publisher also unveiled the official logo for Earth Defense Force's 20th anniversary. More details on the company's plans for the anniversary will be announced at a later date. The first game in the series, Simple 2000 Series Vol. 31: The Earth Defense Forces, known simply as Monster Attack in the west, first launched for PlayStation 2 on June 26, 2003.
Earth Defense Force 6 is available now for PlayStation 5 and PlayStation 4 in Japan.
Watch the first "Lost Days" gameplay footage and trailer below.
"DLC Mission Pack #1: Lost Days" Screenshots, Gameplay, and Trailer
25:14 to 29:00 – Screenshot Slideshow
29:48 to 56:46 – Gameplay
1:11:11 to 1:12:16 – Trailer
Trailer Only