Crash Team Rumble launches June 20, closed beta test set for April 20 to 24
A four-versus-four team-based online multiplayer game.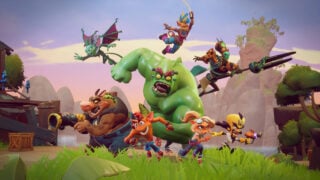 Four-versus-four team-based online multiplayer game Crash Team Rumble will launch for PlayStation 5, Xbox Series, PlayStation 4, and Xbox One on June 20, publisher Activision and developer Toys for Bob announced.
A closed beta test will run from April 20 to 24, which users can gain access to by pre-ordering the game. Coco, Crash, Dingodile, Neo Cortex, and Tawna will be playable across three maps.
The $29.99 standard edition will include a copy of the game and a Premium Battle Pass for the game's first season.
The $39.99 Deluxe Edition will include the standard edition content, as well as a Premium Battle Bass for Season 2, a 25-tier instant unlock for Season 1, and a "Digital Proto Pack," which includes "Blocky" skins and equippable items.
Here is an overview of the game, via Activision:
About

Crash Team Rumble takes Crash Bandicoot in a brand new and unexpected direction, placing the series' iconic heroes and villains into a four-versus-four team-based competition. In each match, the two teams are tasked with capturing more Wumpa fruit than the other. Players will dash, jump, slide, and bounce across diverse and dangerous maps as they race to be the first team to collect and bank enough Wumpa to claim victory! Each hero has unique skills and abilities that players can bring into a match paired with a special power. Teamwork is integral to every match, as players need to work together to collect and score the most Wumpa fruit, capture key gems to boost their score, and block the opposing team from scoring.

Collect and drop off Wumpa fruit before the other team across a variety of maps, along with the heroes and villains of the Crash universe; all bringing their own unique abilities to make their team "wump" up more fruit than the competing team.

Key Terms

Maps

Open arenas set on locations across the multiverse.
Come in a variety of size, danger, and verticality.
Each feature unique Relic Stations that can be activated to turn the tide of a match in radical ways.

Wumpa – A fruit and collectible that players deposit at a Wumpa Bank; score enough Wumpa to win.
Crate – Contain Wumpa, smash one to collect—"basic crates" hold five Wumpa, while "3x crates" hold 15 Wumpa.
Bank – Where Wumpa is scored, each team has their own.
Relics – Collectibles that are deposited at Relic Stations to activate that station's specific power.
Relic Stations – Where Relics are deposited to be activated; each Station type helps teams in a unique way.
Boost – After capturing a Gem Cluster, players are given a percent Boost for all Wumpa that the player's team scores.

Gems – Players jump on these to capture for their team; if a full Gem Cluster is captured, that player's team gains a Wumpa Boost.

Hero – Playable characters.

Each has unique abilities, locomotion styles.
Unique stats including Health, Wumpa Capacity, Combat, Mobility, and Difficulty.

Roles

Heroes are exceptional at one of the three different roles (Scorer, Blocker, Booster).
Players need to be strategic as they assemble a team that can cover all roles that compliment each other.

Powers

A special ability players can equip their character with an additional special complementary power that activates as players play to their hero's role.
Can be activated when the power meter is filled.

Characters

Character Abilities – Three hero roles: Scorer, Blocker, and Booster.

Play as and with any of of the favorite heroes or villains of the Crash Universe
Each character has their own distinct power, moveset, and abilities to use strategically to win each match

Heroes Roles (three)

Scorer – Primary role is to collect and score Wumpa to their team's Wumpa Bank.
Blocker – Main role is to defend banks, being ready to rumble with enemies to knock out their Wumpa and prevent them from scoring.
Booster – They're exceptionally good at capturing Gems, with their primary role to capture Gems to increase their team's scored Wumpa, and activate Relic Stations to give their team the advantage.

Game Editions

Standard Edition

Seasonal events and limited time modes
Pre-order for access to neta
Premium Battle Pass unlock for Season 1

Deluxe Edition (includes all content from Base SKU)

Premium Battle Pass unlock for Seasons 1 and 2
"Digital Proto Pack" includes:

8 "Blocky" hero skins
"Pixelated" shadow
"Get On My Level" in-game victory music
"Blocky" hat
"Blocky" backpack
"Blocky" score FX
Unique banner

25 tier instant unlock for Season 1 Premium Battle Pass
Watch a new trailer and the first gameplay footage below, via YouTuber Canadian Guy Eh. View a new set of screenshots at the gallery.
Pre-Order Trailer
Gameplay