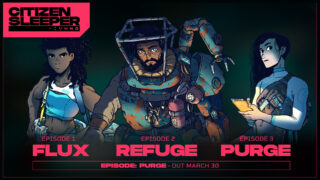 Publisher Fellow Traveller and developer Jump Over the Age will release the third and final free episode update for narrative RPG Citizen Sleeper, dubbed "Episode: PURGE," on March 30 for Xbox Series, Xbox One, Switch, and PC (Steam, Epic Games Store, GOG, Humble Store), followed by a content-complete release for PlayStation 5 and PlayStation 4 on March 31, the companies announced.
Get the latest details below.
With the release of "Episode: PURGE," Citizen Sleeper's three-episode post-launch downloadable content expansion is now complete and the game has even more to offer with a thrilling late game storyline that delivers an immersive new narrative arc introducing additional characters, lore and locations. Players returning to Erlin's Eye might even find themselves running into some familiar faces!

"Episode: PURGE" will be distributed for free across all platforms to anyone who already owns or has access to Citizen Sleeper via an update.

Citizen Sleeper follows your journey as the Sleeper, a digitized human consciousness in an artificial body, on the run from a megacorp who wants their property back. Washed-up on a lawless, derelict space station called Erlin's Eye, it's up to you to survive. Explore the station, choose your friends, escape your past and change your future.

Citizen Sleeper has received wide acclaim since launch; the game carries an "MIGHTY" Open Critic rating of 84, a 94 percent positive rating on Steam and notably appeared in a huge number of 2022 Game of the Year lists. It has also received nominations for many major awards including the The Game Awards, the Independent Game Festival, the D.I.C.E. Awards, a Writer's Guild Award and most recently, four BAFTA nominations.

To celebrate the release of "Episode: PURGE," players will be able to pick up Citizen Sleeper at 30 percent off on all platforms (except PlayStation) for a limited time. PlayStation owners will be able to pick up Citizen Sleeper at the special launch discount of 20 percent off when it releases on March 31.
Watch a new trailer below.
PlayStation 5 and PlayStation 4 Launch Trailer