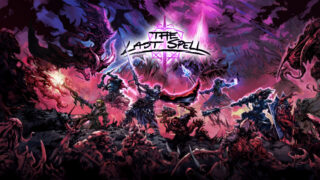 Roguelite strategy RPG The Last Spell will leave Early Access and launch for PlayStation 5, PlayStation 4, Switch, and PC via Steam on March 9, publisher The Arcade Crew and developer Ishtar Games announced.
The Last Spell first launched in Early Access for PC via Steam on June 3, 2021.
Get the latest details below.
A new trailer delves into the unpredictable thrill of The Last Spell's fiendish fights, spotlighting a trove of options available to players as they grapple with intense attacks from swarms of foes. Unlockable upgrades, advantage-dealing omens, and multiple difficulties let players tailor their own strategies and experience while leading a randomized party of warriors in defending humanity's last stronghold, the Havens. Gather intel on the brutal battles and distinct stages ahead, and see how defeat is never the end from new gameplay in today's trailer.

The Last Spell pairs turn-based combat, procedurally generated flanks of foes and stashes of gear, astonishingly large enemy armies reminiscent of Musou games, and roguelite elements to offer a distinct, highly replayable challenge. The Haven's most promising defenders will learn to overcome disadvantages and the brute force of beastly hordes, gaining new skills and strategies through tense fights intensified by a pulse-spiking progressive metal soundtrack. Surviving The Last Spell's brutal but fair onslaught will be nothing short of miraculous, but with wit to match the might of its defenders, humanity's final Haven can still persevere.
Watch a new trailer below.
Release Date Trailer