THE FINALS adds PS5 and Xbox Series versions; PC closed beta test set for March 7 to 21
Sign-ups available via Steam page.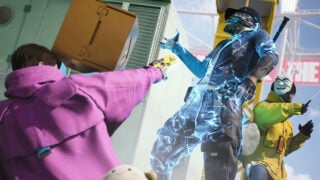 Embark Studios will host a closed beta test for free-to-play multiplayer first-person shooter THE FINALS from March 7 to 21, the developer announced. Users can sign-up for access via the game's Steam page.
Additionally, Embark Studios confirmed that the full game will also be available for PlayStation 5 and Xbox Series alongside the previously announced PC release.
"Many of us at Embark have been building first-person shooters for more than two decades, but just when we thought we were finished with the genre, we unlocked a developer's Holy Grail," said THE FINALS executive producer Rob Runesson in a press release.
"With server-side destruction and movement, almost everything in THE FINALS can be wrecked. We want to breathe new life into a genre that's frankly grown slightly monotonous, and can't wait to test THE FINALS with a large number of players to see if they agree, so we can keep improving the experience ahead of launch."
Here is a brief overview of the game and closed beta test, via Embark Studios:
About

Do you have what it takes to reach THE FINALS?

From Embark Studios comes a new free-to-play, team-based FPS that pushes environmental dynamism, destruction, and player freedom to the limits. Join the competition in THE FINALS—a combat entertainment game-show set in a hyper-realistic virtual world that contestants can alter, exploit and even destroy.

Contestants will compete in iconic locations across the world, battling in fully destructible environments powered by Embark's new server-side destruction & movement system that ensures every player experiences the same impact to the world at the same time—whether it's a piece of furniture being blown apart or an entire building collapsing.

THE FINALS features intricate visual and gameplay customization, allowing every player to build their own unique contestant, from stealthy ninjas wielding katanas to lethal ballerinas armed with rocket launchers—every contestant can control who they are and how they play. While a shooter at its core, contestants must also rely on their intuition and use the environment, gadgets and abilities to defeat their rivals and complete objectives.

Those who succeed will advance through escalating tournaments, earning lasting fame as they reach the pinnacle of competition in THE FINALS.

Key Features

Truly Dynamic and Destructible Environments – Contestants fight it out in virtual playgrounds based on some of the world's most iconic places. The arenas are immersive and fully destructible, powered by Embark's new server-side destruction & movement system that ensures players experience the highly destructible and ever-changing world in perfect unison – whether it's a piece of flying furniture or a whole building collapsing.
Maximum Player Expression – Players build their own unique contestant. From stealthy ninjas defeating opponents with a katana, to cowboys tanking with rocket launchers, every contestant can control who they are and how they play.
Rely on Your Instincts – Why impose limits to your imagination? In THE FINALS, if you think something might work, it probably will. Contestants need to rely on their intuition, use the environment to their advantage, and make full use of their bespoke arsenals and abilities to defeat their rivals and complete objectives.
The World's Biggest Stage 0 All of this beautiful, brutal chaos is wrapped up into an over-the-top virtual game show, centered on a high-stakes tournament with eliminations between every high-tempo round. Teams of three will need to work together to advance. Lose, and you can jump right back into a new tournament—win, and you can REACH THE FINALS.

Closed Beta Test Details

The beta includes two maps: the skyscrapers high above the heart of downtown Seoul and old-town Monaco, on the banks of the French Riviera.
Three modes: Quickplay, Ranked Tournaments, and a Practice Range where contestants can test weapons, gadgets, movement—and of course, destruction.
Players should expect plenty of tweaks, changes, and additions based on the feedback Embark receives.
THE FINALS brings new and experimental features (like full destruction), and Embark knows these features take iteration to get right.
During the second week of the closed beta, we will launch two drop campaigns with exclusive in-game items as a reward for players who view THE FINALS drop-enabled streams on Twitch.
Embark will monitor and provide proactive communication on Steam forums.
Watch a new trailer below.
Closed Beta Trailer