Stray Blade launches April 20
PC closed beta test sign-ups now available.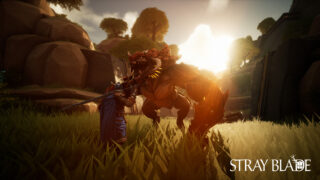 Stray Blade will launch for PlayStation 5, Xbox Series, and PC via Steam and Epic Games Store on February 15, publisher 505 Games and developer Point Blank Games announced. Sign-ups for the closed beta test on PC are available here.
Here is an overview of the game, via 505 Games:
Stray Blade's well-balanced mix of alluring narrative and challenging combat rewards adaptable, curious adventurers. Point Blank Games focuses primarily on the action thanks to the hyper-responsive combat system that allows quick reactions and precise attacks to fully control the flow of battle. Death is inevitable but not a hindrance, with an accessible approach providing explicit in-game indicators for crucial combat elements, and an overall structure that minimizes frustration.

Accompanied by the Xhinnon wolf Boji, traverse the ancient land of Acrea and discover the cause of its demise centuries ago. Build upon that companionship and rely on each other's talent and skills to survive. Call upon an arsenal of weapons, or craft them out of surrounding resources to ensure the next battle ends in triumph. Take a moment to bask in the serene fantasy environments hinting at a life that once was in this mysterious yet adrenaline-filled adventure.
Watch a new trailer below. View a new set of screenshots at the gallery.
Release Date Mini-Trailer
Screenshots