SEGA and Yoko Taro to announce RPG 404 GAME RE:SET for iOS, Android on February 10
Teaser trailer released ahead of showcase event.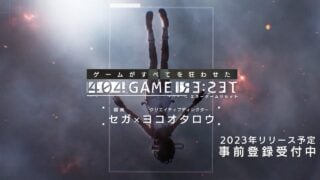 SEGA will announce 404 GAME RE:SET (ERROR GAME RESET), a new RPG for iOS and Android developed with NieR series creator Yoko Taro as creative director, during a showcase event on February 10 at 20:00 JST. You will be able to watch the premiere on YouTube. The game itself will launch in 2023 in Japan.
The company posted a teaser trailer and website for the game's announcement today, which does not include the title or collaborator, but mistakenly posted the wrong version of the premiere video first, the description and title of which mentioned the unannounced details. The wrongly posted premiere has since been taken down, but Gematsu caught the post before it was removed.
As per the description, pre-registration will be available at the following links:
A pre-registration campaign in which everyone can receive gems for up to 10 rounds of gacha when the game launches is also planned.
The game's official website will be available here. The official Twitter account will be available at @404GAMERESET, but is currently hosted at @MOD_SEGA.
The teaser trailer depicts a world being dyed in "SEGA." The smartphone dropped in the beginning features the text "Create a brighter future." and "Destroy SEGA," before finally reading, "2023.2.10 The World Will Change."
Watch the teaser trailer below.
Teaser Trailer