SEGA and Yoko Taro announce RPG 404 GAME RE:SET for iOS, Android
Due out in 2023 in Japan.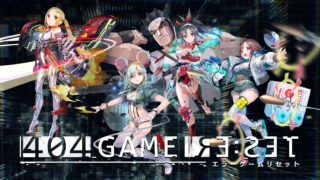 SEGA, in collaboration with creative director Yoko Taro, has announced 404 GAME RE:SET for iOS and Android. It features character design by Yuugen. It will launch in 2023 in Japan. Pre-registration is available now via App Store and Google Play.
Here is an overview of the game, via its store pages:
About

Video games turned everything upside down.

This is a world by SEGA, for SEGA.

From infrastructure to entertainment, SEGA reigns supreme in all areas. The player, who lives in this world, one day encounters a mysterious being called "X."

"The world you live in is not as it should be."

The player, who learned that this world has been warped by SEGA, must throw themselves into a battle with SEGA in order restore the world to its true form.

A Cast of Beauties Themed After Legendary SEGA Games

Featuring a World-Famous Game Creator and Illustrator

World famous game creator Yoko Taro's rebranding of legendary SEGA games' stories, and popular illustrator Yuugen's beautiful girl character designs are what bring life to the unique world of 404 GAME RE:SET.

Creative Director: Yoko Taro
Character Design: Yuugen
Development: SEGA
Watch the announcement showcase below. Visit the official website here.
Announce Showcase