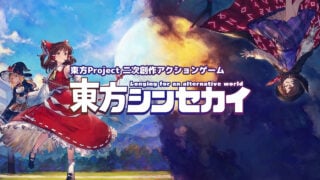 Marvelous, and western subsidiary XSEED Games, will publish Ankake Spa-developed Touhou Project action RPG Touhou Shinsekai: Longing for an alternative world for PlayStation 5, PlayStation 4, Switch, and PC via Steam, the company announced. A release date was not announced.
Formerly known as Touhou Choushinsei, Touhou Shinsekai: Longing for an alternative world comes from the studio behind Youyou Kengeki Musou and Touhou: Scarlet Curiosity.
Here is an overview of the game, via our previous coverage:
Story

Deep in the mountains of Japan, there is a land called "Gensokyo" isolated from the world by barrier about 130 years ago.

Reimu and Mariasa were living a peaceful live there, but were blown outside the barrier by a strange phenomenon and wandered into an unfamiliar city.

There they met a girl named Touko, who possesses supernatural powers and yearns for Gensokyo.

Was this encounter by chance? Their everyday lives are about to change in a big way…
Systems

Skill Panel – Use skills to accumulate experience and make them stronger. Whether you master a number of skills or just one is up to you.
Blacksmith – You can repair equipment at Kogasa Tatara's blacksmith shop. By repair your equipment, its performance will change randomly. Aim for the strongest option.
Nitori's Machine – You can strengthen your character by entering Nitori Kawashiro's special strengthening capsule. Collect stones to strengthen your character as you like.
Watch the publisher announcement trailer below. View a new set of screenshots at the gallery. Visit the teaser website here.
Publisher Announce Trailer