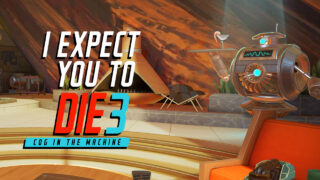 Schell Games has announced I Expect You to Die 3: Cog in the Machine, the third entry in its virtual reality puzzle game series, for PC VR (Steam) and Quest platforms. It will launch in 2023.
"I Expect You To Die launched in 2016, and the franchise has expanded beyond our expectations thanks to the passion and hard work of the development teams and our amazing fans," said Schell Games CEO Jesse Schell in a press release. "We are truly grateful for the community of Secret Agents who supported the series over the years, and we're excited to declassify top secret missions that anyone can enjoy."
Schell Games vice president of engineering and I Expect You to Die 3: Cog in the Machine project director Matt Mahon added, "We have some unique and exciting locations in I Expect You To Die 3, and we can't wait to see how players creatively solve puzzles in a race to beat Dr. Zor at his own game. Players new to the series can jump right in and have a great time, and returning fans will appreciate some fun nods to the prior games."
Here is an overview of the game, via its Steam page:
About

Just when you thought you were out, we're pulling you back in, Agent!

Your skills, and survival rate, make you one of our most capable agents, and you've resurfaced right on time. Zoraxis, our sworn enemy, has something new up its sleeve and we fear dire consequences if we don't stop its diabolical schemes. We're counting on you to throw a wrench into whatever evil is brewing. In this escape-the-room virtual reality puzzler, you need to protect the Agency and the world as we know it, without losing your wits… or your life!

Key Features

Race to Beat Dr. Zor – Your assignments take place in some of the most dangerous locales to date, and each one will require your most advanced covert agent skills. These fast-paced missions will leave you breathless.
Meet a Brilliant Mastermind – A brand new villain will test even the most seasoned agents, and it is up to you to stay alive long enough to defeat this new threat.
Go Undercover in Style – Show off your style (undercover, of course) with an imaginative array of Agency-approved attire. Look smart and choose your hat and gloves before embarking on your top-secret missions.
Watch the announcement trailer below.
Announce Trailer