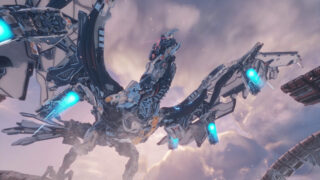 Publisher Sony Interactive Entertainment and developers Guerrilla Games and Firesprite have released the launch trailer for Horizon Call of the Mountain, which is due out for PlayStation VR2 at launch on February 22.
Here is an overview of the game, via its official website:
About

Climb to new heights.

Experience the majestic world of Horizon like never before in this new adventure for PlayStation VR2. The stunning visuals and innovative features of the new PlayStation VR2 Sense controllers fully immerse you into the world of Horizon for an experience like no other.

Ascend the towering peaks of the Carja Sundom as Ryas, a disgraced former soldier, and unravel a new mystery surrounding the machines to redeem yourself and save your people. You will also meet Aloy, other familiar faces, and new characters along the way.

Journey back out into the wilds like never before in Horizon Call of the Mountain.

Key Features

Designed for PlayStation VR2 – View the breathtaking natural world of Horizon Call of the Mountain in 360 degrees and interact with your surroundings using two PlayStation VR2 Sense controllers. Experience the sensations of height and wonder as you take in stunning vistas across the Carja and Nora homelands through the eyes of a new character Ryas, a disgraced former Carja soldier searching for redemption.
Brave a New Adventure – Conquer colossal peaks, overcome fearsome machines and uncover a hidden danger to the world of Horizon—as you answer the call of the mountain in an immersive new adventure for PlayStation VR2. Enter a living, breathing world of dangerous machines, tribal lore, exciting quests and new and returning characters. Explore a diverse landscape—embark on a journey with multiple paths to take where you'll have to look all around you to uncover the secrets of the mountains.
Enjoy Immersive Action – You'll need a warrior's instinct to find the path forward—and danger will stalk you all the way. But there are new allies and old friends who stand ready to help you with your journey. Use intuitive movements to climb vast mountains, hunt machines, shoot your bow and craft items from raw materials. Feel the adrenaline rush in a riverboat ride filled with surprises, that offers the chance to show off PlayStation VR2 to your friends and family.

PlayStation VR2 Features

Thrilling new worlds come to life with incredible visual clarity and in uniquely immersive and emotional ways with PlayStation VR2 Sense Technology.

4K HDR Display – Feast your eyes on vibrant, super-sharp 4K HDR visuals that bring the beautiful world of Horizon into clear focus. Headset feedback. Feel subtle, responsive headset vibrations at key moments during gameplay for a deep, immersive experience.
Tempest 3D AudioTech – Plug in your stereo headphones and pinpoint where noises are coming from with Tempest 3D AudioTech in enhanced, realistic soundscapes, as audio adapts dynamically to your position and head movements.
Finger Touch Detection – Interact with in-game items and environments in a natural and intuitive way. Even when you're not physically pressing a button, finger touch detection recognizes how your hand is positioned, so the PlayStation®VR2 Sense™ controller can accurately replicate your hand movements.
Haptic Feedback – Feel what it's like to fire your bow, craft tools, touch different textures and travel in different terrains through precise, distinct vibrations delivered via the PlayStation VR2 Sense controllers.
Adaptive Triggers – Experience varying levels of force and tension as you interact with gear and environments for a deep sense of immersion, such as when pulling back an increasingly tight bowstring. As well as the adaptive triggers, both PlayStation VR2 Sense controllers also feature a "grip" button to grab in-game objects.
Watch the trailer below.
Launch Trailer