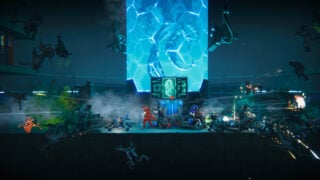 Free-to-play side-scrolling battle royale Dead Cide Club will launch in Early Access for PC via Steam on February 27, followed by PlayStation 5 at a later date, developer PRESS.A announced.
Here is an overview of the game, via its Steam page:
About

Dead Cide Club represents a shooting battle royal on side-scroll. It would help if you fought monsters and hostile enemies in an enclosed building. Make a breakthrough in the changing terrain and environment. Various weapons and tools will wait for you. Be the last man standing.

Key Features

Loot the Monsters – Notice the monsters that might appear from where. Hunt monsters and get coins to take on more potent weapons and have more supplies.
Use Strategic Tools – A hook that can knock an enemy out? A shield that you will need when you defend or attack? The strategies available in Dead Cide Club are endless. Get a variety of weapons from vending machines and supplies that you don't know where to fall, and develop a more diverse strategy.
Psychological Shooter – Dead Cide Club is an online multi-shooter built on a side scroll system. Infiltrate the Dead Cide Club through the Battle Royale mode, which requires you to run, kill, and survive in order to be the last one standing. Also, experience the BeHolder mode, which is a custom match that allows you to manipulate anything at your disposal.
Fiercely Competitive – An accessible and fast tempo Battle Royale mode that anyone can easily enter in the Dead Cide Club. Loot, run, and survive. Your survival depends on the feel of battle patterns that varies greatly with timing and weapons of attack.
Watch the Early Access launch trailer below.
Early Access Launch Trailer