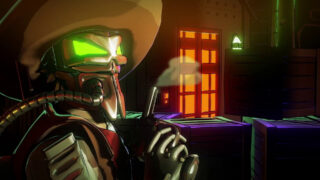 Roguelite shooter Dust & Neon will launch for Switch and PC via Steam on February 16, publisher Rogue Games and developer David Marquardt Studios announced.
Here is an overview of the game, via its Steam page:
About

It's cowboys vs robots in Dust & Neon, a classically inspired top-down twin-stick shooter, powered by an upgradeable looter-shooter weapon system, and roguelite progression that always brings new challenges.

Welcome to a futuristic Wild West, where robots have rejected their life of servitude, and taken over the planet, turning it into a not-so-enjoyable place for humans. Step into the boots of Gunslinger, a legendary sharpshooter from the past, brought back to life by a mad scientist to fight the robot oppression.

Key Features

Shoot 'Em Up… In Every Direction – Tight twin-stick shooting controls, combined with an automatic cover, and a dynamic power-up boost system, meaning you'll be mowing down mechanical menaces with non-stop action. No stopping for pesky inventory management!
Collect and Upgrade Your Arsenal – Customize and level up your skills, earn ever deadlier weaponry, and upgrade your home base to become a robot-destroying super cowboy.
Death Ain't Really a Big Deal – The mad scientist is always prepared to clone a new you, so you can go in guns blazing into big violent epic boss battles.
Watch a new set trailer below.
Switch Pre-Order Trailer