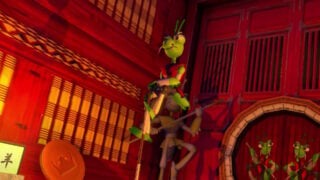 Publisher Numskull Games and developer Dinosaur Bytes have released a new set of trailers for Clive 'N' Wrench. The "Year of the Rabbit" trailer showcases the game's ancient China game world, while the "Gameplay Preview" trailer is an eight-minute overview that introduces how it plays, the story, the duo's move set, collectables, and worlds.
Here is an overview of the game, via Numskull Games:
Clive 'N' Wrench is a brilliantly crafted 3D platforming paradise full of challenges, collectables, and charismatic characters. Starring Clive the rabbit and best friend Wrench, the monkey on his back, players will jump, roll, hover, and spin their way through time and space in a magical 1950's refrigerator, on a heroic quest to thwart the tyrannical Dr Daucus.

Players will adventure through the prehistoric ice age in Iceceratops, to ancient Egypt in Tempus Tombs, and even across the Wild West in 11 distinct levels each with its own boss battles with varying difficulties. Clive 'N' Wrench has been tailored for both experienced players and newcomers alike.
Clive 'N' Wrench is due out for PlayStation 5, PlayStation 4, Switch, and PC via Steam and GOG on February 24. Physical editions will be available on the same day in Europe, and on February 28 in North America.
Watch the trailers below.
Year of the Rabbit Trailer
Gameplay Preview