Uncharted Waters Origin global pre-registration now available
Due out in the first quarter of 2023.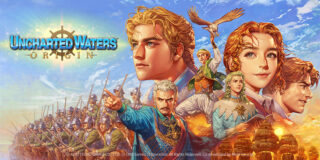 LINE Games has opened pre-registration for the global version of free-to-play seafaring sandbox RPG Uncharted Waters Origin, which will launch for PC via Steam and FLOOR, iOS via App Store, and Android via Google Play in the first quarter of 2023.
Uncharted Waters Origin first launched in South Korea on August 23, 2022.
Here is an overview of the game, via LINE Games:
Co-developed by Motif—LINE Game's affiliate development company—and Koei Tecmo Games, Uncharted Waters Origin is a seafaring sandbox RPG in which players can enjoy trade, adventure and battle contents set in the 16th century Age of Discovery and commemorates the 30 years legacy of Koei Tecmo's Uncharted Waters series.

To offer players ever more immersive experience, Uncharted Waters Origin uses real-world big data such as the direction and speed of wind, currents and waves. Built with 4K graphics of Unreal Engine 4, the game presents famous figures from world history, and surrounding details in 2D illustrations and 3D models.

Over 104 fully orchestrated soundtracks including the original tracks by YoKo Kanno, adds to the immersive experience. Launched first in South Korea, Uncharted Waters Origin has won four awards the 2022 Korea Game Awards, including Grand Prize, Best Scenario and Sound category.

Starting today and throughout February 20, interested players can pre-register for Uncharted Waters Origin on its main website. All pre-registered players will be rewarded with various items including ships, shipbuilding materials and equipment that can help boost an early start.
Watch a new set of trailers below.
Pre-Registration Trailer
English
Japanese
Traditional Chinese
English
Japanese
Traditional Chinese
Uncharted Discovery: Mediterranean Sea
English
Japanese
Traditional Chinese
Contents Preview: Battle
English
Japanese
Traditional Chinese
Contents Preview: Trade
English
Japanese
Traditional Chinese
Contents Preview: Voyage
English
Japanese
Traditional Chinese