R-Type Final 3 Evolved debut trailer
Another look at the Unreal Engine 5-enhanced R-Type Final 2.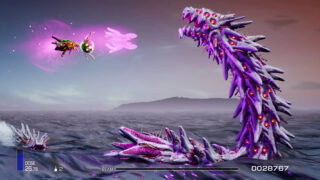 Granzella has released the first official trailer for R-Type Final 3 Evolved.
Here is an overview of the game, via western publisher NIS America:
About

The legendary shoot 'em up hit is back with an unparalleled R-Type experience! Renowned for its colorful visuals and frenetic shooter action, R-Type Final 3 Evolved steps it up in its explosive debut on PlayStation 5 with 3D graphics and modernized gameplay features.

New and veteran players alike can shape their experience with the performance-based difficulty system and customizable ships. Experience classic R-Type trademarks such as the "Force" mechanic along with a nostalgic and addictive gameplay loop.

Navigate an entire universe of new and classic stages, face enemies that evolve based on your performance, and blast the competition away with worldwide leaderboards! R-Type Final 3 Evolved unites R-Type Final 2 and PlayStation 5 with seven exclusive stages made by Kazuma Kujo himself—all of the first Stage Pass downloadable content, new ships, and a multiplayer mode for up to six players—fully remade in Unreal Engine 5!

Key Features

Evolved Enhancements – Experience the explosive adventure of R-Type on PlayStation 5, where the frenetic action of the original games meets updated 3D visuals and modern gameplay features.
Universal Challenge – The performance-based difficulty system adjusts to each player's individual experience, making this game accessible to new and veteran pilots alike.
Customized Loadout – Choose from a fleet of fighters from previous installments and personalize every element of your ship, including its color, weapon loadout, and decals. You can even customize your pilot to your liking in the hangar!
Worlds of New Content – R-Type Final 3 Evolved includes PlayStation 5-exclusive stages created by Kazuma Kujo, all of the homage stages from the first Stage Pass, and update Version 2.0.0, which contains new playable ships, a new multiplayer mode, global rankings, and more.
R-Type Final 3 Evolved is due out for PlayStation 5 on March 23 in Japan, and this spring worldwide.
Trailer #1