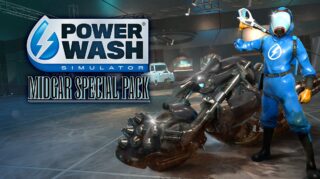 Publisher Square Enix Collective and developer FuturLab will release Final Fantasy VII-themed free downloadable content "Midgar Special Pack" for PowerWash Simulator, the companies announced. A release date was not announced.
In the downloadable content, players will be given a mission to make familiar locations, objects, and enemies sparkly clean, including "7th Heaven," "Hardy-Daytona," and "Guard Scorpion."
PowerWash Simulator is available now for PlayStation 5, Xbox Series, PlayStation 4, Xbox One, Switch, and PC via Steam and Microsoft Store.