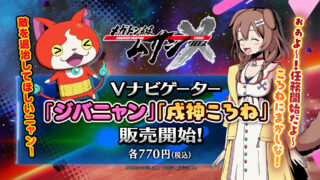 Holive Virtual YouTuber Inugami Korone and Yo-kai Watch mascot Jibaynan are now available as "V-Navigators" in mech action RPG Megaton Musashi X, developer LEVEL-5 announced. Each character is available for 770 yen each via the in-game store.
V-Navigators support the player in combat with commentary on the state of battle and words of encouragement.
Megaton Musashi X is available now for PlayStation 5, PlayStation 4, and Switch in Japan as a free-to-play title.
Watch a new set of trailers below.
Inugami Korone V-Navi Trailer
Jibanyan V-Navi Trailer