KartRider: Drift Season 1 launches March 8 for PS4, Xbox One, PC, iOS, and Android
A free-to-play kart racer with cross-platform multiplayer.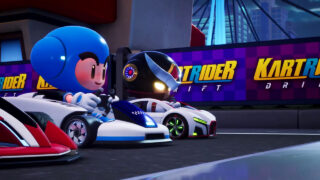 Free-to-play kart racing game KartRider: Drift Season 1 "New World" will launch on March 8 for PlayStation 4 and Xbox One alongside the existing PC, iOS, and Android versions, which are currently in Preseason, developer Nexon announced. Full cross-platform multiplayer will also be available.
Get the latest details below, via Nexon.
Full cross-platform, cross-play will be available when Season 1 "New World" arrives on March 8. Season One also brings with it exciting new content—brand new tracks and race modes, a season-long theme, daily player rewards and events, plus many other improvements.

KartRider: Drift isn't as simple as it may seem! The easy-to-learn, hard-to-master game offers distinct game modes designed to train and challenge new and veteran racers:

Item Mode – Various offensive and defensive items (such as shields, barricades, and nitrous boosts) are collected and can then be strategically deployed to help or hinder other racers on the track in an attempt to cross the finish line first.
Speed Mode – Puts the racer's drifting skills to the test with no-holds-barred arcade racing and no items to slow racers down. The fastest racer claims the trophy at the podium!
License System – A series of courses designed to test a racer's mettle and raise a player's skill level. Completing License challenges unlocks unique player items such as karts, characters, and additional tracks.
Time Attack Mode – Solo racers can push their skills to the limit to top the leaderboards.

With a dazzling array of unique characters and karts, KartRider: Drift players have complete control over customization options to express themselves fully and cross the finish line in style! More characters, karts, accessories, and emotes can be unlocked via the standard Racing Pass, where racers can complete different daily challenges and event challenges. New premium challenges and rewards are also available with the purchase of a Premium Racing Pass.

While still in Preseason, KartRider: Drift continues to add improvements and make adjustments to the core game experience based on player feedback in an upcoming February 15 game update. Update details will be available on the KartRider: Drift site as the date approaches.
KartRider: Drift is available now in Preseason for PC via Steam and Nexon Launcher, iOS via App Store, and Android via Google Play.
Watch a new trailer below.
Season 1 "New World" Trailer