Fort Solis launches this summer, published by Dear Villagers
New screenshots and artwork released.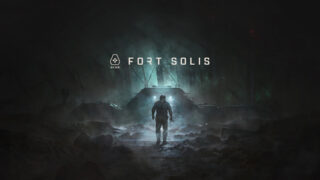 Dear Villagers will publish Fallen Leaf and Black Drakkar Games-developed cinematic science-fiction adventure game Fort Solis when it launches for PC via Steam this summer, the companies announced.
Here is an overview of the game, via Dear Villagers:
Fort Solis has you assume the role of engineer Jack Leary, as he spends the longest night of his life on an isolated mining base on Mars. Explore Fort Solis station at your own pace, gathering clues from its bunkers, labs, crew quarters, and harsh, stormy surface to understand what enigmatic horrors befell its inhabitants. As the night grows longer events escalate, spiral out of control, and the mystery as to what's really going on deepens. You must race against time to locate the Fort Solis crew members and escape to tell the tale!

Utilizing the power of Unreal Engine 5, Fort Solis offers an intricately immersive setting in the deepest reaches of space. Featuring a first class crew that includes Red Dead Redemption 2 lead Roger Clark, Troy Baker (The Last of Us, Death Stranding), and Julia Brown (The Last Kingdom, World on Fire), Fort Solis grounds you in its hard science-fiction drama with no camera cuts, load times, or HUD. Fort Solis' cinematic ambitions can be seen in the movie poster-inspired key art for its main cast below.

Make tough decisions in real time as you piece together the sinister forces that have befallen Fort Solis. Your actions will have key consequences, leading to multiple endings. Do you have what it takes to solve the mystery of Fort Solis and report back alive?
"We're all fans of hard sci-fi and horror, so with Fort Solis we wanted to create a tense, classic sci-fi tale that players are free to piece together at their own pace," said Fallen Leaf game director James Tinsdale in a press release. "To us immersion was the key factor here, and we're very proud of all the work our team and our collaborators have done in bringing Fort Solis to life. It's such a fully realized, lived in place, and we're thrilled for everyone to discover it when it launches later this year."
Dear Villagers head of publishing Guillaume Jamet added, "Dear Villagers seeks to bring people new and engaging experiences, and Fort Solis is exactly that. We're so happy to have partnered with Fallen Leaf, as Fort Solis offers such a unique mix of narrative-driven adventure, open-ended exploration, immersive sim interaction, and chilling, ominous atmosphere. We love its vision, and are confident you will too!"
View a new set of screenshots at the gallery.
Screenshots