Dokapon Kingdom: Connect debut trailer, screenshots
Due out on April 13 in Japan.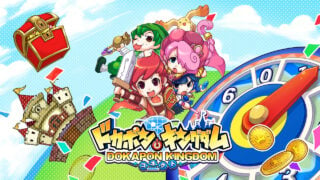 Publisher Compile Heart and developer Sting have released the first trailer and screenshots, and opened the official website for Dokapon Kingdom: Connect, the newly announced remaster of the 2007-released party game Dokapon Kingdom. It will launch for Switch with four-player online multiplayer support on April 13 in Japan.
Here is an overview of the game:
About

Board game x RPG. This is Dokapon Kingdom: Connect.

The only condition for victory is to "earn more money than anyone else." Players become "Heroes" and aim to become "The Hero Who Earns More Money Than Anyone Else."

The rules are simple. Stop the spinner, move, and follow the instructions on the space.

Defeat monsters, get items and treasures, change jobs, get robbed by strange characters, and even steal your friends' money. No mercy for friends or family! The mischievous battle were anything goes begins now!
Story

Once upon a time, there was a kingdom named Dokapon where the people enjoyed nothing more than their money. The sight of its golden glimmer, the comforting clink of a full wallet, the metallic taste of a freshly minted coin… Everyone Loved their cash, and nobody Loved it more than the King.

One day, monsters appeared out of nowhere and attacked the towns of Dokapon Kingdom. These monsters stole people's money for their own mysterious reasons, and the people became so poor that they were unable to pay their taxes to the King.

The King, moved to tears by the plight of his people and his income, called upon heroes from far and wide to free his people from the monsters. The reward for this dangerous task is the beautiful Princess Penny's hand in marriage and the throne of Dokapon Kingdom!

A journey full of danger, intrigue, betrayal, and cold, hard cash is about to begin!
Watch the trailer below. View the screenshots at the gallery.
Announce Trailer