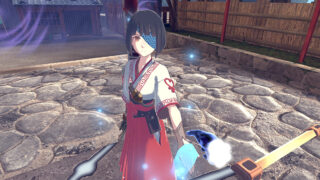 AMATA K.K. will release virtual reality action adventure game The Tale of Onogoro for PlayStation VR2 on Feruary 22, 2023, the developer announced.
A PlayStation VR version, which was previously announced, is also in development and due out for release this winter.
Here is an overview of the game, via PlayStation Blog:
Amata K.K, creator of the escape adventure Last Labyrinth returns with a new intriguing co-op tale. A VR player finds themselves thrust into an all-too real parallel world where danger and mystery await. You'll join forces with Hal, a shrine maiden who lives on the island of Onogoro. She's not alone on the island: five giant, lethal Kami inhabit this isle as well. These raging beasts must be subdued, puzzles must be solved and Arakida Masatake, the mastermind behind the mayhem, stopped.

Teaming up is essential to your success. While you hold the legendary Celestial Weapon, capable of manipulating objects and firing Ki once absorbed, some riddles can only be solved by Hal, some only by you. Additionally you share health with Hal, making it all the more important for both of you to avoid injury. In tough situations though, you can hold hands with Hal to heal, so be sure not to miss Hal's call for help.

Infusing traditional Japanese culture with steampunk elements, The Tale of Onogoro promises a unique world full of riddles and powerful battles.