Senjou no Waltz for Switch launches April 13, 2023 in Japan
First launched for PS Vita in November 2014.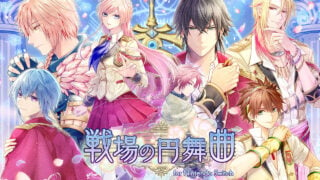 Idea Factory will release otome visual novel Senjou no Waltz for Nintendo Switch on April 13, 2023 in Japan for 7,150 yen, the company announced.
A 9,350 yen limited edition will also be available, which includes a special booklet featuring character introductions and newly written follow-up stories for the game's six romanceable guys, plus seven character message cards.
Pre-orders include a reprint of the art book initially included in the limited edition release of the PS Vita version.
Senjou no Waltz first launched for PS Vita on November 20, 2014 in Japan.
Here is the story synopsis, via VNDB:
One day, a girl suddenly had everything stolen from her. Her hometown, her parents… and in exchange she obtained "power."

She took hold of a sword holding massive power in order to protect herself and those she cares about, the "cursed magic sword."

The girl, who now possessed a power that could shake the nation, had no choice but to live on the battlefield. She ended up at an ultranationalistic military school known as "Nirvana." It was a unique school, a country in its own right gathering boys and girls that excelled in combat.

It is here the girl meets many different people and begins to forge deep bonds. And also, begins discovering where she belongs, a place in the world that she was sure she had lost.

This is that girl's story, of her and the "talking magic sword."