Dune: Awakening pre-alpha gameplay teaser trailer, screenshots
First in-game look at the upcoming Dune survival MMO.
Funcom has released the first pre-alpha footage of open-world survival massively multiplayer online game Dune: Awakening.
Get the latest details below.
Funcom has innovated in the massively multiplayer and survival genres for over two decades, most recently with Conan Exiles. Dune: Awakening builds upon this strong foundation, weaving together open-world surival and massively multiplayer online game aspects into a Dune tapestry that brings Frank Herbert's epic universe to life in a completely unique way. With this gameplay teaser, Funcom has also updated the Dune: Awakening website, giving a panoramic view of the player experience.

In Dune: Awakening, you strive to survive the countless dangers of Arrakis alongside thousands of other players. Explore your role and identity while experiencing an epic personal journey, from searching for water and building shelters against storms to controlling the flow of spice in the top echelons of the planet.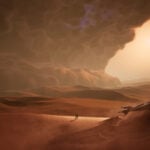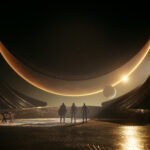 Spice lies at the center of conflict, advancement, and power in Dune: Awakening. Where spice blows appear, players converge. Fights can range from quick skirmishes to large-scale battles with infantry, ground vehicles, and ornithopters each providing an essential role.

The deserts hold a multitude of choices to make and paths to discover. Jump into an ornithopter to scout the deep deserts; equip advanced armor and weaponry to become a deadly mercenary; execute an efficient spice harvesting operation; gain influence among Great Houses—do all these things and more.
Dune: Awakening is in development for PlayStation 5, Xbox Series, and PC (Steam). A release date has yet to be announced.
Watch the pre-alpha teaser trailer below. View a set of screenshots at the gallery. In the month's following today's trailer, Funcom will cover each aspect of the game in-depth to give players a full understanding of the game before it enters its beta.
Pre-Alpha Gameplay Trailer