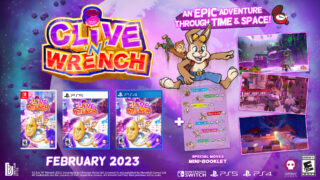 Publisher Numskull Games and developer Dinosaur Bytes have released the "Christmas" trailer for 3D platformer Clive 'N' Wrench, as well as announced that the game will see standard and collector's edition retail releases in the United States and Canada alongside its European launch via publishing partner PM Studios. Pre-orders are available now via Amazon, Best Buy, GameStop, Target, Walmart, and other leading retailers.
Here is an overview of the game's ice world featured in the Christmas trailer:
No 3D Platformer is complete without an ice world and Clive 'N' Wrench takes that to eclectic levels with Iceratops, the games very own prehistoric winter wonderland. Mixing together Christmas cheer and the demise of the Dinosaurs, Clive 'N' Wrench are in for a challenge if they want to collect all the pocket watches and Ancient Stones the world has to offer. Make sure you check out the brand-new trailer that showcases the world in all its 3D Collecting glory, after all, 'tis the season!

Explore a prehistoric platforming playground.
Ascend to new heights, using dinosaurs to reach platforms above.
Fight your way through imps, dino skeletons and is that… the Dodo?
Time your jumps carefully as you navigate ice filled primordial goo.
Meet Father Noelephant and help reunite him with his missing presents!
Collect Ancient Stones & Pocket Watches to proceed to the next world.
Clive 'N' Wrench is due out for PlayStation 5, PlayStation 4, Switch, and PC via Steam and GOG in February 2023.
Watch the new trailer below.
Christmas Trailer