BUSTAFELLOWS Season 2 launches May 25, 2023 in Japan
"Things either change, or come to an end."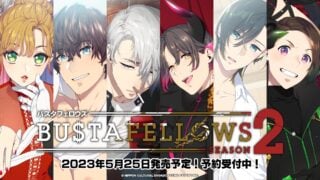 BUSTAFELLOWS Season 2 will launch for Switch, iOS, and Android on May 25, 2023 in Japan for 7,480 yen, developer eXtend announced.
A 9,680 yen Deluxe Edition will also be available for Switch, which includes a copy of the game, "Turtles Pizza" pizza box, soundtrack CD, drama CD, acrylic illustration board, game pamphlet, and "Turtles Pizza" shop card.
Pre-orders for the Switch version include an exclusive drama CD.
Switch users who have save data from the original BUSTAFELLOWS on their system will receive access to a connected episode. There is also an exclusive episode for iOS and Android users.
Here is the story synopsis:
Everyone wants answers. Who is to blame? What went wrong? And what must the punishment be? To preserve the state of the world, everything is either black or white. Those who focus on the in-between will only continue to suffer.

Everyone must know it in their hearts—that all things come as a pair. Black or white. Front or back. Light or dark. Good news, or bad news.

And things either change, or come to an end.