Aquarium. coming to PC
Currently available for PlayStation 4 and Switch in Japan.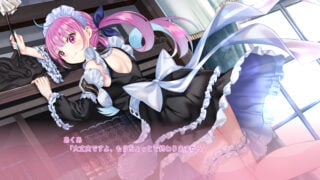 Entergram will release a PC version of Aquarium., the romance visual novel based on hololive Virtual YouTuber Minato Aqua, the company announced at Comic Market 101. A release date was not announced.
Aquarium. first launched for PlayStation 4 and Switch on October 27 in Japan.
Here is the story synopsis:
The master, who is heir to the prestigious Francois household, has a nightmare every night. In this nightmare, he meets a girl who tells him she hates him, and they argue and go their separate ways. However, he did not know this girl.

One summer day, the master's elder sisters tell him that they would like for him to practice leadership to prepare for the day that he succeeds the Francois household. They request that he take the new maid's troubled hands and occasionally advise her.

"I am Aqua, the new maid. Starting today, I will be responsible for your care."

The master is fascinated by Aqua, the maid who relies on him; and Aqua has a certain "secret" she is unable to share. Despite their mutual feelings, they face against a wall of class distinctions that they can never overcome.

What is the shadow that that draws near the two faced with various trials and opposition? This is summertime pure love story across different classes.
Thanks, Famitsu.