505 Games launches 'Visit Rockay City' teaser website for new title to be announced at The Game Awards 2022
Plus a teaser video featuring Michael Madsen.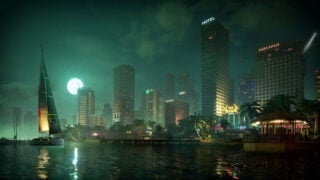 505 Games is teasing the announcement of a new title at The Game Awards 2022.
The publisher posted the following tweet and video featuring Reservoir Dogs and Kill Bill actor Michael Madsen.
To: @geoffkeighley
From: #505Games @EpicGames
Subject: Lost and Found Item

Hi Geoff,

Your number one fan has left something in reception.

Want to come and collect it?

Thank you! pic.twitter.com/BHeSMgwSm0

— 505 Games (@505_Games) December 1, 2022
Scanning the QR code in the wallet shown in the video leads to the website "Visit Rockay City," which confirms a "forthcoming reveal at The Game Awards… on December 8, 2022." The background video on the website showcases a city waterfront at night.
The Epic Games Store logo is featured both in the Twitter video and in the background video of the teaser website.
Watch the teaser website video below.
Visit Rockay City Teaser Website Video