Street Fighter 6 'Dynamic Controls' trailer
Unleash exhilarating actions at the press of a button.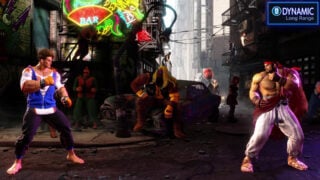 Capcom has released a new trailer for Street Fighter 6 showcasing the game's "Dynamic Control" type.
Get the details below.
New to Street Fighter 6, the Dynamic Control type is an offline-only mode that executes exhilarating actions at the press of a button. Depending on your positioning, the AI will select certain actions to match the situation. It's a great way for casual matches against friends and family, and for newer players to get familiar with the basics!

Unleash combos at a close range with one button!
At mid-range, the AI could choose a move to close the gap, like a jump attack!
Projectiles and dashes are performed at long range!

This control type is only available for certain modes in Fighting Ground. There are also different attack options available besides from Auto-Attack.
Street Fighter 6 is due out for PlayStation 5, PlayStation 4, Xbox Series, and PC via Steam in 2023.
Watch the trailer below.
Dynamic Controls Trailer
English
Japanese