Evil West 'Online Co-Op Mode' trailer
Play the entire campaign with a friend.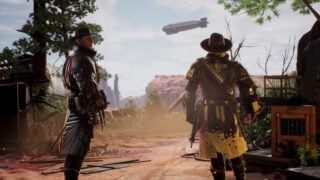 Publisher Focus Entertainment and developer Flying Wild Hog have released a new trailer for Evil West introducing the game's online cooperative mode.
Get the latest details below.
Evil West, the third-person action game that puts you in the boots of a vampire hunter rescuing a Wild West devoured by darkness, just shared a first look at its online co-op mode in a new trailer.

Take on Monster Hunting with a Friend

Designed as an explosive solo action adventure at heart, Evil West does not shy away from offering the option to turn an intrepid lone ranger's journey into quality time slaying vampires with a buddy. It takes the form of an online cooperation mode that allows for two players to team up. Host and invite a friend on a segment of your journey or take on all missions together, blasting horrifying monsters in tandem and unleashing explosive combos in twice-the-fun, twice-the-style sequences. Mix and match your characters' weapons and skills for ever-expanding action possibilities!
Evil West is due out for PlayStation 5, Xbox Series, PlayStation 4, Xbox One, and PC via Steam on November 22.
Watch the trailer below.
Co-Op Mode Trailer