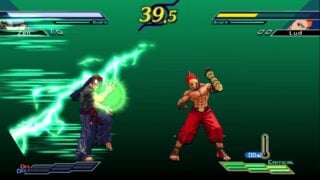 Publisher 3goo and developer Dimps have released a new video interview with The Rumble Fish 2 main programmer Mitsuhiro Tanaka and main planner Masaharu Oomori on the console and PC re-release of the 2005-released fighting game.
In the interview, Tanaka and Oomori discuss the game's story, title, characters, mechanics, challenges during development, and more.
Watch the video below, which is exclusive to Gematsu.
Here is the official transcript:
Mitsuhiro Tanaka, Main Programmer: "I'm Tanaka. I work at Dimps in the technology development division of Production Dept. 2.

"As the main programmer for The Rumble Fish, I oversaw the battle system, the main system that controls the flow of the game, and the SMA client-side imaging system."

Masaharu Oomori, Main Planner: "I'm Oomori, of the planning and production division of Production Dept. 2. I was mainly in charge of coming up with and adjusting the world and characters as well as their abilities as the main planner."

Can you tell us more about the story and world of The Rumble Fish?

Oomori: "Fighters engaged in fierce battles was the visual concept. They keep fighting despite getting hurt. It's a gritty depiction of those scenes you see in manga and anime.

"There's a company called Probe Nexus that holds an illegal fighting tournament in an area called Zone Prime. And in it, they bet on fighters for entertainment.

"It's an idea born out of settings in like the Baki the Grappler or the Fight Club.

"In The Rumble Fish 1, the story more or less ends with Zen beating Greed.

"President Brad, the most powerful person in Probe Nexus, stepped down after his ultimate fighter and protege, Greed, was defeated.

"Afterwards, when The Rumble Fish 2 begins, Brad's granddaughter Beatrice becomes the leader of Probe Nexus.

"Meanwhile, you have a conflict set up with a character named Hazama. Zen wants to surpass Greed. The Mutsuki sisters want to take revenge on Greed for killing their father. Each character has their own motivation, and as they fulfill their goals, fail to do so, or find new ones to pursue, the backbone of the story transforms."

What's the origin of the title's name, The Rumble Fish?

Oomori: "If you put two Rumble Fish in one tank, they'll fight until one of them dies–until it's torn to shreds. I thought that was interesting.

"And they're so beautiful. They have this striking beauty to them, but also an extremely aggressive nature.

"And I believe we talked about the breaking parts system. The way they tear each other up was an inspiration for that."

Why were new characters added to The Rumble Fish 2?

Oomori: "Unfortunately, The Rumble Fish 1 was limited to having only 10 characters. It wasn't a very big roster, but we actually wanted to include a couple more.

"So, we added characters to The Rumble Fish 2 that sadly didn't make the cut to The Rumble Fish 1. Characters with different play styles which would allow more ways to play and create different match-ups."

I'd like to discuss character settings. Mr. Tanaka, from your point of view, who is the most balanced character? And who would you say is the least balanced?

Tanaka: "In The Rumble Fish 2, each character has their own traits, so it's very hard to speak to that in short. That said, Aran has easy-to-use projectiles, invincible moves, rushing moves and a lot of moves with good horizontal hit-checking, so he's a very easy character to start with."

Do you have any advice for beginners on how to use Aran?

Tanaka: "He has projectiles and rushing moves, so it would be good to learn how to zone and pressure the opponent.

"He also has easy to use anti-air moves to punish opponents that are being particularly aggressive. It would pay off learning those basic movements.

"Once you're used to that, he also has projectiles with great hit-checking you can use for downed opponents. Time them with the moment after downing the opponent and use their long active hit-check to limit your opponent's options.

"I think those are the best kinds of moves you can learn at first."

What do you think sets The Rumble Fish 2 apart from other fighters in terms of game mechanics?

Tanaka: "I think The Rumble Fish's most defining feature is the gauge mechanic, which is divided into two, an Offense and Defense Gauge.

"You can use each of them to activate special moves or fill them both up to deal massive damage with super powerful moves called Critical Arts.

"The most important factor in The Rumble Fish is the strategy you employ when choosing how to use these two gauges in battle."

Why did you opt for a five-button system in The Rumble Fish?

Tanaka: "We have four buttons for the light and strong punches and kicks, plus the dodge button. So, in addition to the four basic buttons, with the dodge button, we added a variety of mechanics unique to The Rumble Fish and tuned for a five-button layout.

"The base system in The Rumble Fish is one that gives the attacker the advantage. So, we needed ways for the defender to evade or launch counterattacks that fit such a system.

"Dodging was originally implemented so players could predict their opponents' attacks and evade them gracefully. Then we fleshed it out with mechanics for wake-up and recovery after getting hit.

"The last bit of fleshing out was with Impact Breaks.

"You'd sometimes get stuck blocking an opponent that rushed relentlessly. So, we ultimately added Impact Breaks, a mechanic for players to turn the tables. By inputting the correct direction and the dodge button while blocking, you can add delay to the opponent.

"Starting from there, we were able to make a system that affords strategies with a lot of depth. We're proud of that."

Could you expand on the Offense and Defense Gauges? Also, why did you decide to use this system?

Tanaka: "Let me dive into the Offense Gauge and Defense Gauge respectively. First off, the Offense Gauge fills up as you hit the opponent or when you make them block.

"You can get up to three bars of this gauge, which you can then spend on offensive mechanics.

"For example, use them for offensive special moves or rush combos.

"The Defense Gauge fills up by blocking the opponent's attacks, but it also fills up gradually on its own. You can get up to three bars of this one, too.

"You can spend these on mechanics with powerful defensive capabilities. For example, strong special moves that let you counter an opponent's attack.

"There are mechanics that use both gauges, but by getting all three charges of both, you can use Critical Arts, the game's most powerful special moves. So, you can try to turn the tables with that one move."

How does this gauge system affect gameplay strategies?

Tanaka: "Since it's split into two gauges, you have more options when you're attacking and defending–more tricks up your sleeve, if you will.

"That gives way to a mind game like, whether to use a gauge when attacking, whether the opponent will use another gauge to rush you when defending. Then you might use a move to counterattack or crush their counter to launch your own offensive. The system allows for strategizing at a very deep level."

Who's your favorite character?

Oomori: "I was in charge of Boyd. I discussed the unusual element in his design as well as his abilities with Tanaka to nail down what he could do. So, he's special to me. He also has something the other characters don't in that he builds up his scorpion's attack for one huge hit in the end. I got to implement that accumulative fighting style with him."

Tanaka: "I'd have to say Viren. The reason is he was the first character we implemented with SMA. So, I ended up using him the most as an SMA character and he grew on me."

Did you face any particular challenges during development? If so, could you go into how you worked through them?

Oomori: "The thing I most struggled with was nailing down the character designs. It took a long time. Since it was an original title, we had to think of fighting styles and designs you hadn't seen in other fighting games. I just about went to blows with the company's designers. Things got turbulent.

"Boyd, in particular, was one character we couldn't settle on until the last leg of development. He's a hit man, which is surprising because he looks nothing like one. But I think at the end we figured out something that worked."

Tanaka: "We decided from the start of development to use SMA for the finely articulated 2D visuals. Of course, there weren't any tools for using that on a fighting game back then, so we had to make them all from scratch at Dimps. That was quite a challenge.

"The system was also a lot of work for designers, so production took an inordinate amount of time.

"From The Rumble Fish 1 to 2, we kept improving the tools and the client-side imaging. We got them working with SMA visuals and over a wider area than had previously been possible.

"SMA, to put it simply, is a system that creates the connecting motions from one pattern to the next in 2D fighters.

"This has the benefit of connecting patterns via a motion rather than the jittery way it used to be."
The Rumble Fish 2 is due out for PlayStation 5, Xbox Series, PlayStation 4, Xbox One, Switch, and PC via Steam on December 8.