Rain World DLC 'Downpour' launches January 19, 2023 for PC
Consoles release date not announced.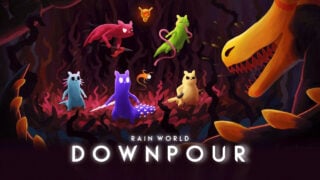 Rain World downloadable content "Downpour" will launch for PC via Steam on January 19, publisher Akupara Games and developer VIDEOCULT announced.
"I'm really happy that with Downpour, Rain World's developers are now giving a spotlight to that side of the community (modding)," lead programmer Andrew Marrero said in a press release. "There's always been a bit of a divide in the video game industry with mods, some developers embracing them, other developers quick to shut them down. It means a lot to all of us that Rain World's developers are willing to embrace the community's work to this extent, as this level of collaboration is not something you see very often."
Here is an overview of the downloadable content and game, via Akupara Games:
Rain World: Downpour expands on the ideas of its loyal player base that has been with them for the past five years. The downloadable content implements fully fleshed out modes that the community has created and modded, but it also adds Steam Workshop support and a built-in content manager to allow players the freedom to control how they truly want to explore Rain World.

One of the game's most influential community modders, Andrew Marrero, helped bring Rain World: Downpour to fruition. Working on the original "More Slugcats" mod, Andrew was brought on to help VIDEOCULT fully integrate these mods into "Downpour" and help create the next addition to Rain World. As lead programmer, Andrew brought together the talents and work of fellow modders like Garrakx and LeeMoriya to create an expansive downloadable content for Rain World

In Rain World, you are a nomadic slugcat, both predator and prey in a broken ecosystem. Grab your spear and brave the industrial wastes, hunting enough food to survive, but be wary—other, bigger creatures have the same plan… and slugcats look delicious.

The "Downpour" downloadable content includes hundreds of new maps across ten new regions; five new playable characters with unique mechanics, storylines, and endings; two new game modes; and local co-op.

The full list of key features is as follows:

Breaking New Ground to Explore – Survive and explore ten expansive new regions—featuring thousands of new maps, environments, creatures, and weather anomalies to discover.
Five Additional Characters – Each with unique abilities, skill sets, gameplay style, and stories.
Challenge Mode – Put your survivability to the test in multiple pre-constructed arena scenarios, adapting to each room as the difficulty increases.
Safari Mode – Observe an ecosystem unfold! Revisit areas once explored safely through the eyes of an observer – control and play as other creatures in the game to influence the scene.
Jolly Co-Op – Up to four local players can explore and survive all base-game campaigns in this local co-op mode. See if the power of friendship can overcome the treacherous world of Rain World.
Rain World is currently available for PlayStation 4, Switch, and PC via Steam and GOG. A release date for "Downpour" on consoles has yet to be announced, but news is "coming soon."
Watch a new trailer below.
PC Release Date Trailer