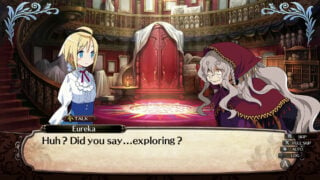 Dungeon RPG Labyrinth of Galleria: The Moon Society will launch for PlayStation 5, PlayStation 4, Switch, and PC via Steam on February 14, 2023 in North America and February 17 in Europe, publisher NIS America announced. It will include both English and Japanese audio.
Labyrinth of Galleria: The Moon Society first launched for PlayStation 4 and PS Vita on November 26, 2020 in Japan, followed by Switch on November 11, 2021.
Pre-orders for a limited edition are currently available via NIS America Online Store for $89.99, which includes a copy of the game, hardcover art book, two-disc original soundtrack, "Dungeon Divers" card game and play mat, and a collector's box.
Here is an overview of the game, via NIS America:
About

From the creators of Labyrinth of Refrain: Coven of Dusk comes a new chapter in the dungeon-exploring adventure filled with charm and mystery! Summoned by the magnificent Madame Marta, you are but a wandering spirit awaiting your next command. With the help of Eureka, Madame Marta's assistant, and an army of soul-infused puppets, you are tasked with delving into the depths of a mysterious underground labyrinth teeming with enchanted monsters to unearth the Curios d'art that lie within!

Labyrinth of Galleria: The Moon Society offers dungeon-crawling adventures with new quality of life improvements and 50 hours of exploration alongside a cast of fully customizable companions to do your bidding. Use a variety of pacts and puppet soldiers to customize a team of up to 40 fighters to dive into the darkness and discover the secrets with the Labyrinth of Galleria… if you dare!

Key Features

Labyrinth Revived – As the spiritual successor to Labyrinth of Refrain, Labyrinth of Galleria presents a dungeon exploration adventure with new improvements focused on enhancing the gameplay experience!
Endless Exploration – Dive deep into the depths of the labyrinth to unearth its secrets with over 50 hours of exploration adventure!
Customize Your Companions – Build your witch brigade into a tailor-made team using a variety of pacts and puppet soldiers which can be further customized for maximum battle potential!
Watch a new story trailer below.
Story Trailer