Dead Space remake 'Extended Gameplay Walkthrough'
Eight minutes of new footage.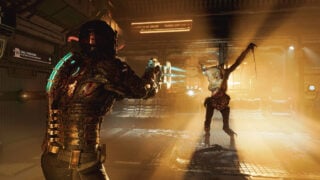 Publisher Electronic Arts and developer Motive have released an eight-minute extended gameplay walkthrough of the upcoming Dead Space remake.
In it, senior producer Philippe Ducharme walks viewers through the reimagined USG Ishimura, showing off key improvements including updated visual fidelity, the interconnected ship, the Intensity Director, and more.
"The Intensity Director makes your exploration of the Ishimura even more intense, challenging, and unpredictable," reads the video description. "Enemies, lighting, and ambiance may change each time you return to a previously explored area, making each experience unique. Then find out how new audio and visual effects help crank up the tension throughout."
Dead Space is due out for PlayStation 5, Xbox Series, and PC via Steam, Epic Games Store, and Origin on January 27, 2023 for $69.99. A $79.99 Digital Deluxe Edition will also be available, which includes three unique suits and two suit textures.
Watch the footage below.
Extended Gameplay Walkthrough