Company of Heroes 3 delayed to February 23, 2023
No longer due out on November 17.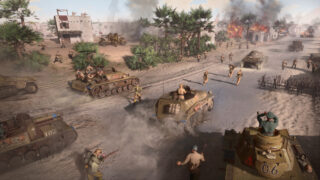 Publisher SEGA and developer Relic Entertainment have delayed Company of Heroes 3 from its previously planned November 17 release date to February 23, 2023.
Get the full message from Relic Entertainment on the delay below.
As we approach the November 17 launch date for Company of Heroes 3, our team has decided the game is not quite up to our players' or our own high standards. There still are bugs to squash, pixels to polish, gameplay to adjust and feedback to address.

As a result, we've decided to move the launch date to February 23, 2023. While we know many of you are itching to get your hands on the game, we believe this to be the best decision for Company of Heroes 3, our players and our studio. This provides our hard-working team and partners with the necessary time to deliver Company of Heroes 3 in a better overall state.

We are incredibly proud of the dedication our community has shown throughout CoH-Development. Your feedback has been critical in these last stages of development and will continue to be a driver for our team for years to come.

Thank you for your support and patience,


The Company of Heroes 3 team