Adventure game Pilgrims by Amanita Design coming to Switch on November 3
Currently available for PC and Apple Arcade.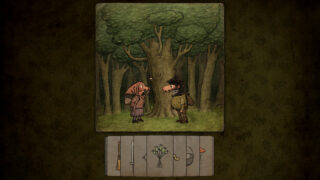 Amanita Design will release adventure game Pilgrims for Switch via Nintendo eShop on November 3 in the Americas and Europe, and a week later in Japan and Asia, the developer announced.
Pilgrims first launched for PC via Steam and Apple Arcade on October 7, 2019.
Here is an overview of the game, via Amanita Design:
Pilgrims is a short non-linear adventure game set in a charming little kingdom, inspired by old Central and Eastern European fairy tales and, partially, John Steinbeck's books. It tells the story of Tramp, Granny, Bandit, and Devil—four different characters each with their own quirks and perks—who eventually end up roaming the land together, dealing with strangers and helping each other out.

Thanks to Nintendo Switch's versatility and several input methods, Pilgrims is playable in various modes on the console. Aside from the usual handheld, tabletop, and TV modes, the game fully supports touch controls and includes an option to switch between landscape and portrait views.

The game's key gameplay mechanic was inspired by a puzzle featured in Samorost 3, one of Amanita's previous titles, in which players were required to solve a problem by experimenting with the interaction of various playing cards. The player would then be rewarded with gentle humor, a funny animation accompanied by sounds. Pilgrims is therefore filled with all sorts of surprising, lighthearted situations, encouraging the player to try out different combinations since many problems can be solved in a number of different ways. The game supports replayability with 45 unlockable achievements.

Pilgrims was developed by a team led by Jakub Dvorsky, who designed the game and took over the visual art. He was joined by his long-term collaborator, animator Vaclav Blin, programmer Michal Berlinger, and the classic duo Tomsa "Floex" Dvorak and Tomas "Motak" Dvorak on music and sound effects, respectively. The game received the main Czech Game of the Year award in 2019, and a CEEGA award for Best Mobile Game in 2020.