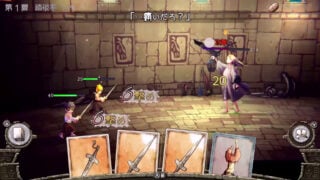 Publisher Shueisha Games and developer Tasto Alpha have released the Tokyo Game Show 2022 trailer for The Tower: To the Bottom.
Here is an overview of the game, via its Steam page:
An endless tower lies beyond the world's end. And at its top, a village of children. The children must venture out and brave the depths of the tower in search of food, answers, and the rumored paradise awaiting at the bottom.

"I believe that at the bottom of this tower, a paradise awaits…"

The Tower: To the Bottom is a roguelike game where you lead a group of children that live at the top of a tower, as they aim to reach the surface. The battles and other various trials you encounter in the tower can be dealt with by selecting from your deck of cards.

However, the effects of your cards will change depending on the way it is facing. Similar to tarot cards, this means that a healing herb can double as a poisonous root when inverted.

The strange and mysterious block the path to the bottom, so find your own solutions to overcome the trials and solve the mysteries of the Tower as you delve ever closer to the paradise awaiting on the surface!
The Tower: To the Bottom is due out for PC via Steam in 2022.
Watch the trailer below.
Tokyo Game Show 2022 Trailer