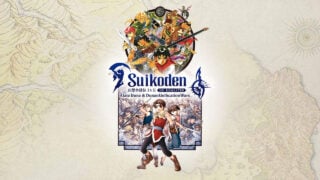 Konami has announced Suikoden I & II HD Remaster: Gate Rune and Dunan Unification Wars for PlayStation 4, Xbox One, Switch, and PC (Steam). It will launch in 2023.
Here is an overview of the collection, via Konami:
About

A hero's destiny is written in the Stars.

The legendary Konami JRPGs Suikoden I and Suikoden II have now been remastered in high-definition!

The Story of Suikoden I

A once renowned hero turns into a violent tyrant, and an empire falls into decline.

A Liberation Army is rising up in an act of rebellion against an oppressive rule.

One by one the 108 stars of Destiny gather to shape the course of history.

The Story of Suikoden II

Our story's hero and his friend Jowy are members of the Unicorn Youth Brigade, which participated in a drawn-out border dispute between the Highland Kingdom and the City-States of Jowstown.

A few months earlier, a truth agreement was signed between the two forces, both of which were happy to see an end to the fighting.

However, hidden under the momentary peace the fires of a new war continued to smolder…
Key Features

Graphical Improvements

Pixel sprites and environment art enhanced with new screen effects including lighting, clouds, and shadow animations Flickering flames, smoldering smoke, the movement of leaves and insects, all add up to a lively in-game atmosphere!
The effects and direction have been redesigned, bringing memorable scenes back to life in more beautiful ways!

New Character Drawings

All character portraits have been updated in HD. Junko Kawano, who designed the characters for the original version of Suikoden released in 1995, has newly re-drawn all the character portraits for Suikoden I HD Remaster: Gate Rune War.

Sound Improvements

Field Sound – A large number of environmental sounds not found in the original version, such as the sound of running water in the river, wind, insects, and running footsteps, have been added. You can enjoy an immersive experience like never before!
Battle Sound – All sound effects are now in HD. In addition to the impact of the 3D effects, the realistic sound greatly enhances the dynamism of the battles!

Game System Improvements

Many new features have been added, such as dialogue log, auto-battle, double-speed battles, etc.
Watch the announcement trailer, first gameplay, and full Tokyo Game Show 2022 presentation archive below. View the first screenshots at the gallery. Visit the official website here: English, Japanese.
Announce Trailer
English
Japanese
Neclord Boss Gameplay
(Via IGN.)
Tokyo Game Show 2022 Presentation