PLAYISM Game Show TGS 2022 Preview live stream set for September 14
A look at the titles PLAYISM will showcase at Tokyo Game Show 2022.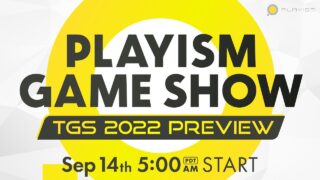 PLAYISM will host PLAYISM Game Show Tokyo Game Show 2022 Preview on September 14 at 5:00 a.m. PT / 8:00 a.m. ET / 21:00 JST, the company announced. You will be able to watch it on YouTube (English, Japanese, Chinese).
The broadcast will feature the world premiere of brand new games along with multiple titles the company will localize and publish for a worldwide audience, as well as new console ports for multiple games, both previously released and upcoming. Presenters include host Chiaki Matsuzawa, Namari Kirin (voice only), Yamien, and PLAYISM representative Shunji Mizutani.
Tokyo Game Show 2022 will run from September 15 to 18 at Makuhari Messe in Chiba, Japan.