CULTIC Chapter One for PC launches October 13
Priced at $9.99.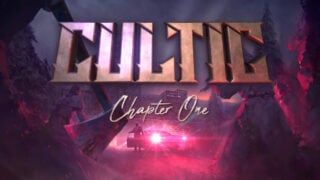 Horror-themed first-person shooter CULTIC will launch for PC via Steam with Chapter One on October 13 for $9.99, publisher 3D Realms and developer Jasozz Games announced.
"I'm excited to finally get the first chapter of CULTIC out for everyone to play," said Jasozz Games sole developer Jason Smith in a press release. "The open-ended combat and play-your-way approach is going to make for some vastly different playthroughs, and I can't wait to see what crafty players come up with."
Here is an overview of the game, via 3D Realms:
Uncover untold horrors executed by an insidious cult as a disgraced detective determined to close a case. Upon approaching the group's suspected compound, you're attacked from the shadows and mortally wounded. Or so it seemed. Awakening in a mass grave, wounds fresh but unbleeding, you'll rise up to finish what you started.

CULTIC kicks off with Chapter One, and the story will continue in Chapter Two in a future release. Fight your way through cult-controlled territory, including grimy facilities, dark forests, an abandoned mining town, eerie catacombs, and more. Chapter One contains 10 story maps, boss encounters, and new Survival maps.

Employ quick-witted thinking while pushing back against the vicious cultists thirsting for the detective's demise. Wield powerful, upgradeable mid-century weapons, including the C96, STEN MK. V, a sawed-off coach gun, TNT, and more. Out of bullets? Dash, slide, and improvise with interactive environmental objects. '90s-inspired voxels and sprites evoke a pulse-pounding love letter to retro shooters with a touch of modern flair.

Beyond the levels of CULTIC's first chapter, a wave-based Survival mode inspired by Resident Evil 4's "The Mercenaries" and Killing Floor offers high replayability. Scrounge together money with each kill and buy weapons, ammo, health and armor between waves. Fight to reach the top of global leaderboards, mastering multiple difficulties.
Watch a new trailer below.
Chapter One Release Date Trailer