Soul Hackers 2 'Aion's Allies & Mission' trailer
Ringo gets a crash course in human behavior.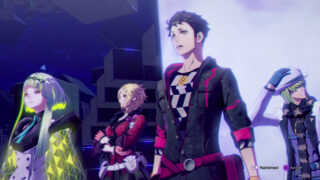 ATLUS has released a new English trailer for Soul Hackers 2 dubbed "Aion's Allies and Mission."
Here is the full transcript of the trailer:
Cities of humanity are largely dens of neon lights, convenience, and corruption. Karakucho is no different, and behind all the glitz and violence, a world-ending disaster is fast approaching. The fate of humanity falls to the Agents of Aion, who must decrypt their destinies to save the world from apocalypse in a brand new RPG from ATLUS.

Welcome agents of Aion. The end of the world is at hand. Two AI beings—Ringo and Figue—have been created by the digital hivemind Aion to prevent this calamity. But to do that they're going to need some help.

Arrow – An agent from the Yatagarasu group.
Milady – A mysterious member of the Phantom Society.
Saizo – A freelance Summoner who follows his own path.

As Ringo revives her human allies, she'll come to understand them better. However, Ringo herself is affected by her companions' conflicted emotional states. Enter the Soul Matrix.

To help ease their cognitive conflict, Ringo can delve into the Soul Matrix—a vast labyrinth of their collective minds. By getting to know her companions and raising their Soul Levels, she can help identify and work through Arrow, Milady, and Saizo's lingering regrets.

There will be times when Ringo can hang out at Bar Heidrun to raise everyone's spirits and their Soul Levels. Descending deeper into each member's Soul Matrix may also have benefits in combat, but that's a topic for another day.

This ragtag group may not always agree, but they'll need to cooperate if they want to discover the truth behind their fates—and save humanity in the process.
Soul Hackers 2 is due out for PlayStation 5, Xbox Series, PlayStation 4, Xbox One, and PC via Steam and Microsoft Store on August 25 in Japan and August 26 worldwide. Read more about the game here.
Watch the trailer below.
Aion's Allies & Mission Trailer