SEGA and Picturestart announce Space Channel 5 and Comix Zone film adaptations
Now in development.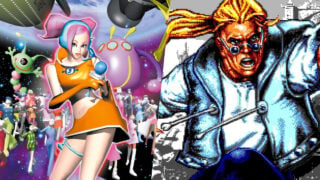 SEGA has announced a partnership with Picturestart to develop film adaptations of video games Space Channel 5 and Comix Zone.
Get the details below.
Space Channel 5, a comedy / dance adaptation of the cult-classic 1999 dance game, will tell the story of a hapless fast-food worker who is recruited by a freedom reporter from the future to save the world from aliens using the one thing that unites all people on the planet: our love of silly viral dances.

Space Channel 5 is being written by Barry Battles and Nir Paniry. Battles wrote and directed The Baytown Outlaws, a crime comedy starring Billy Bob Thornton and Eva Longoria. Paniry wrote and directed Extracted, a sci-fi drama nominated for the Emerging Visions award at South by Southwest. Battles is represented by Pete Stein at CAA and Jeff Portnoy at Bellevue Productions; Paniry is also represented by Portnoy.

Comix Zone, an adaptation of the cult console game that has been so influential to so many over the years, follows a jaded comic book creator and a young, queer writer of color who, when sucked into the final issue of his popular series, must put aside their differences to stop a dangerous supervillain from sowing complete destruction — and in the process wittily explore the ever-evolving power of storytelling itself.

Comix Zone will be written by Mae Catt, whose credits include writing on the Emmy®-winning HBO Max original, Young Justice, and the How to Train Your Dragon spinoff series, Dragons: The Nine Realms. Catt is represented by Matthew Dartnell at Writ Large.

Royce Reeves-Darby and Erik Feig are overseeing both projects for Picturestart and will produce alongside Samie Kim Falvey, also of Picturestart. From SEGA, Vice President Co-COO Shuji Utsumi is overseeing both projects and Toru Nakahara, producer for the Sonic the Hedgehog movie franchise as well as executive producer for Sonic Prime TV series, will produce the two adaptations. In addition, Takumi Yoshinaga (SEGA video game director) will join the team for Space Channel 5 and Kagasei Shimomura (SEGA video game producer) will join the team for Comix Zone.