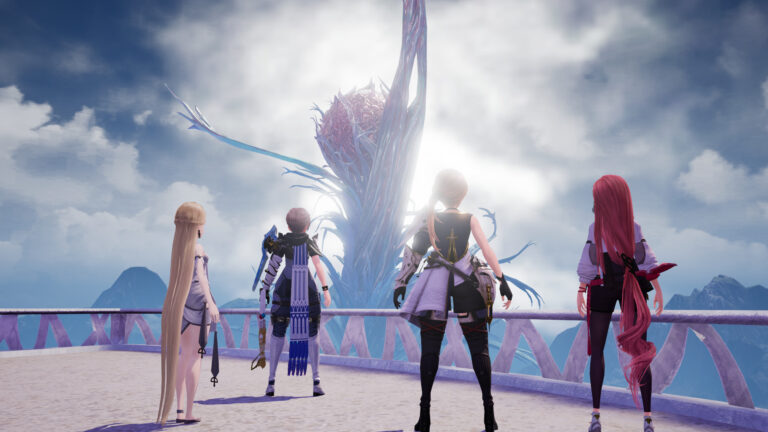 Publisher Square Enix and developer Live Wire have released new information and screenshots for HARVESTELLA, introducing the story and environment of the spring town Nemea, town resident Istina, jobs, character stories, and more.
Get the details below.
■ The Town of Spring, Nemea

A beautiful town, where flowers bloom all year round due to the influence of the nearby Spring Seaslight. Many children live at the orphanage.

—Concept artwork by Isamu Kamikokuryo.

Night-Time

Once night falls, the town shows a different side, as cherry blossoms dance against the night sky in a dreamlike display.

Story

A giant egg has appeared on the Spring Seaslight. Ever since, unfamiliar monsters have been flying into town and attacking the townspeople.

When the protagonist visits Nemea, they become involved with the investigation of the Seaslight with Asyl, a member of the Argus Brigade that protects the town.

—The Spring Seaslight can be seen from the observation deck in Nemea.

—The group sets out to investigate the Seaslight. What will they find…?

■ Resident of Nemea

Istina

Occupation: Teacher at the Orphanage

"I wish to stay here and watch over the children. That is the life I have chosen."

Istina, who lives together with the children at the orphanage in Nemea, is intellectual, quiet, and rarely displays her emotions openly. She enjoys reading about different places in the world and often reads aloud to the children.

This is how she spends her days, beloved by the townspeople—but it's said that she only arrived in Nemea a few years ago.

Upon meeting the protagonist, she will have to confront the past she's kept hidden…

■ Adventure: Jobs

Jobs have unique weapons and use characteristic skills. By recruiting a character with a certain job, the player-controlled protagonist will also be able to use the same job.

Sky Lancer

A job that excels at physical attacks with wind attributes. You can learn many wide-range skills that take advantage of the spear's reach, so the Sky Lancer is useful when facing multiple enemies.

■ Socializing: Character Stories

Characters can join you in battle as allies and there are other important characters with their own Character Story. These stories focus on the problems that each character faces. As you progress through a Character Story, learning more about each character's thoughts and feelings, your closeness to them will increase. This grants a range of benefits in combat, and you may even receive rewards.

■ Special Produce

Some produce can be harvested all year round, while some kinds of fruit and vegetables can only be harvested in a particular season! Savour the seasonal work on the farm and the cuisine particular to each season.

Spring Crops and Fish

—Nemean Tomato

—Wisty Peach

—Cucumble

—Strawbuddy

Spring Cuisine

—Nemea Bolognese

—Peach Rose Mousse

—Zucchini and Mince Sandwiches

—Strawberry Shortcake

And many more kinds of special Spring produce and cuisine await!

■ Daily Life: Fishing

You'll be able to go fishing once you buy a fishing rod. Find a Fishing Point and catch some fish! Just like with crops grown on the farm, you can ship fish for money or use them in your cooking.

The fish available to catch will depend on location and other conditions. Perhaps you might even catch something other than a fish…? Upgrading your fishing rod will allow you to catch rare fish.

■ Daily Life: Shipping

Earn lots of money by shipping the fruit and vegetables harvested from your fields.

Processing

Use machines you've crafted to create processed goods, which ship for an even higher price.

■ Staff

Producer and Game Design: Daisuke Taka
Director and Scenario: Hiroto Furuya
Concept Art: Isamu Kamikokuryo
Composer: Go Shiina
Character Design: Yasushi Hasegawa
Art Director: Yoichi Kubo
VFX Supervisor: Tadachika Iima
Development Direction: Naoyuki Ukeda
HARVESTELLA is due out for Switch and PC via Steam on November 4 worldwide.
View the screenshots at the gallery.