SEGA Genesis Mini 2 launches October 27 in North America
Day and date with launch in Japan.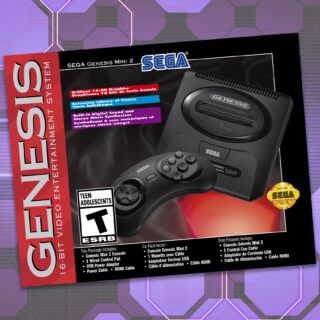 SEGA will release SEGA Genesis Mini 2 on October 27 in North America exclusively via Amazon for $103.80, day and date with its Japanese release, the company announced.
SEGA Genesis Mini 2 will include over 50 classic games, including SEGA CD titles and titles previously unreleased on SEGA Genesis Mini. Confirmed titles include:
SEGA CD

Mansion of Hidden Souls
Shining Force CD
Silpheed
Sonic CD

SEGA Genesis

After Burner III
Alien Soldier
Bonanza Brothers: Wanted Dead or Alive
Night Striker
The Ninja Warriors
Lightening Force
Out Run
Out Runners
The Ooze
Rainbow Islands Extra
Rolling Thunder 2
Shining in the Darkness
Sonic 3D Blast
Splatterhouse 2
Super Hang On
Vectorman 2
Virtua Racing

Bonus
Watch a trailer below. Visit the official website here.
Promotional Trailer