MultiVersus adds LeBron James, Rick & Morty
The Space Jam: A New Legacy character.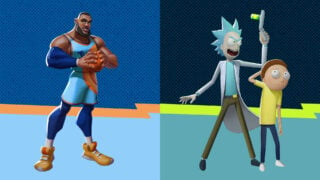 LeBron (James) from Space Jam: A New Legacy and real-life basketball will be a playable character in free-to-play platform fighting game MultiVersus, and Rick and Morty from Rick & Morty will join the game as part of its first season, publisher Warner Bros. Games and developer Player First Games announced.
Here is an overview of each character, via Warner Bros. Games:
In MultiVersus, LeBron is the ultimate teammate who can adapt to any playstyle, coupled with his unbeatable basketball moves, from dunks and alley-oops to assists and ball ricochets, and more. LeBron will be playable when the MultiVersus Open Beta begins on July 26.

Rick Sanchez, the mega-genius scientist, will bring a number of abilities to MultiVersus, many of which utilize his signature portal gun and can be strategically combined with his other tricks, like summoning Meeseeks. Morty Smith, Rick's teenage grandson and sidekick on countless adventures, will have a mix of skills with an emphasis on projectiles and counter moves, including grenade weapons and the ability to whip himself at opponents. Morty will be available when MultiVersus Season 1 begins on Aug. 9. Rick will also be part of Season 1; his release timing will be confirmed at a later date.
MultiVersus is due out in open beta for PlayStation 5, Xbox Series, PlayStation 4, Xbox One, and PC via Steam on July 26.
Watch the Lebron character reveal trailer below.
Lebron Character Reveal Trailer