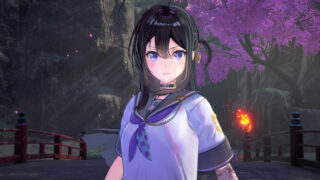 D3 Publisher has launched a teaser website for the unannounced game SAMURAI MAIDEN in both English and Japanese, which features a 20-second teaser trailer.
D3 Publisher trademarked "SAMURAI MAIDEN" on May 18 in Japan, and the game itself was rated in Korea under the publishing arm of Clouded Leopard Entertainment earlier this month, suggesting the latter company will be handling the game's Asian (and English) localizations.
While D3 Publisher has yet to officially confirm the title "SAMURAI MAIDEN," the URL to the website contains "s_maiden," and the the game's Twitter and Instagram accounts tease the title as "******* MAIDEN."
More information will be announced on August 3.
Watch the teaser trailer below.
Teaser Trailer
English
Japanese