Bright Memory: Infinite for PS5, Xbox Series, and Switch launches July 21
Currently available for PC.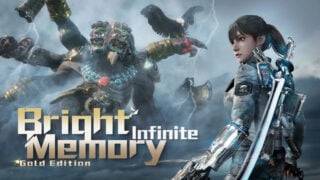 First-person action game Bright Memory: Infinite will launch for PlayStation 5, Xbox Series, and Switch on July 21, publisher PLAYISM and developer FYQD-Studio announced.
The PlayStation Store and Nintendo eShop listings are for a Bright Memory: Infinite Gold Edition, while the Microsoft Store listing is for Bright Memory: Infinite Platinum Edition. The Gold Edition is not listed on Microsoft Store, nor the Platinum Edition on PlayStation Store or Nintendo eShop. At the moment, the difference in content is unclear.
Bright Memory: Infinite first launched for PC via Steam and GOG on November 11, 2021.
Here is an overview of the game, via PLAYISM:
Both Xbox Series X|S and PlayStation 5 versions support raytracing with reflections at 60 frames per second, with a 120 frames per second performance mode also available for those seeking the smoothest combat experience. The PlayStation 5 version also utilizes DualSense adaptive trigger features, available only in this edition.

On the other end of the power spectrum, the Nintendo Switch version, which runs natively on hardware and not through the cloud, features multi-sampling of TAA anti-aliasing for a stylish presentation on the go, along with gyroscopic aiming support. Each console edition will include all the cosmetic downloadable content from the PC version with the base game.

Initially released in 2021 on PC, Bright Memory: Infinite combines the skillful gunplay of first-person shooters with the intense swordplay of hack-and-slash action games. Combine shots, slashes, acrobatic maneuvers, and psychic powers to combo through futuristic soldiers and demons from ancient Chinese mythology. Unlock new abilities through a deep, branching skill tree revealing new powers and upgrades.

Uncover the mystery behind why a black hole opened up during Chinese New Year celebrations as the special agent Shelia. Armed to the teeth, Shelia squares off with forces seeking to harness this phenomenon and the beasts emerging from it. Lay bare the unfathomable truth about two intertwining worlds and timelines as well as the mysterious masked man behind it all.
Watch a new trailer below.
Consoles Release Date Trailer
English
Japanese