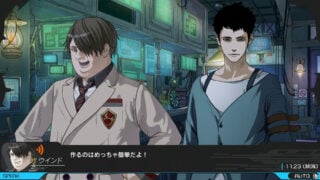 MAGES. has released the second "Character File" trailer for Science Adventure visual novel ANONYMOUS;CODE introducing characters Cross Yumikawa (voiced by Tomokazu Sugita) and Wind Maki (voiced by Hiroyuki Tanaka).
ANONYMOUS;CODE is due out for PlayStation 4 and Switch on July 28 in Japan, and for PlayStation 4, Switch, and PC via Steam in 2023 worldwide. A demo is available now for consoles in Japan. Read more here.
Watch the trailer below.
Character File 02: Cross Yumikawa (voiced by Tomokazu Sugita) and Wind Maki (voiced by Hiroyuki Tanaka)